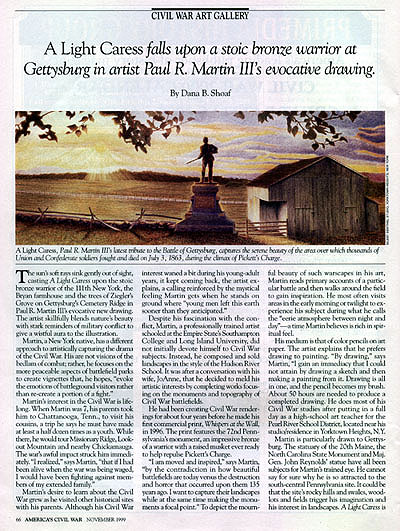 CIVIL WAR ART GALLERY
A light Caress falls upon a stoic bronze warrior at Gettysburg in artist Paul R. Martin III's evocative drawing.
By Dana B. Shoaf
The sun's soft rays sink gently out of sight, casting A Light Caress upon the stoic bronze warrior of the 111th New York, the Bryan farmhouse and the trees of Ziegler's Grove on Gettysburg's Cemetery Ridge in Paul R. Martin III's evocative new drawing. The artist skillfully blends nature's beauty with stark reminders of military conflict to give a wistful aura to the illustration.

Martin, a New York native has a different approach to artistically capturing the drama of the Civil War. His are not visions of the bedlam of combat; rather, he focuses on the more peaceable aspects of battlefield parks to create vignettes that, he hopes, "evoke the emotions of battleground visitors rather than re-create a portion of a fight."

Martin's interest in the Civil War is lifelong. When Martin was 7, his parents took him to Chattanooga, Tenn., to visit his cousins, a trip he says he must have made at least a half dozen times as a youth. While there he would tour Missionary Ridge, Lookout Mountain and nearby Chickamauga. The war's awful impact struck him immediately. "I realized," says Martin, "that if I had been alive when the war was being waged, I would have been fighting against members of my extended family."

Martin's desire to learn more about the Civil War grew as he visited other historical sites with his parents. Although his Civil war interest waned a bit during his young adult years, it kept coming back, the artist explains, a calling reinforced by the mystical feeling Martin gets when he stands on ground where "young men left this earth sooner than they anticipated."

Despite his fascination with the conflict, Martin, a professionally trained artist schooled at the Empire State's Southampton College and Long Island University, did not initially devote himself to Civil War subjects. Instead, he composed and sold landscapes in the style of the Hudson River School. It was after a conversation with his wife, Joanne, that he decided to meld his artistic interests by completing works focusing on the monuments and topography of Civil war Battlefields

He had been creating Civil War renderings for about four years before he made his first commercial print,"Whispers at the Wall" , in 1996. The print features the 72nd Pennsylvania's monument, an impressive bronze of a warrior with a raised musket ever ready to help repulse Pickett's Charge.

"I am moved and inspired ," says Martin, "by the contradiction in how beautiful battlefields are today versus the destruction and horror that occurred upon them 135 years ago. I want to capture their landscapes while at the same time making the monuments a focal point." To depict the mournful beauty of such warscapes in his art, Martin reads primary accounts of a particular battle and then walks around the field to gain inspiration. He most often visits areas in the early morning or twilight to experience what he calls the "eerie atmosphere between night and day"- a time Martin believes is rich in spiritual feel.

His medium is that of color pencils on art paper. The artist explains that he prefers drawing to painting. "By drawing," says Martin, "I gain an immediacy that I could not attain by drawing a sketch and then making a painting from it. Drawing is all in one, and the pencil becomes my brush. About 500 hours are needed to produce a completed drawing. He does most of his Civil War studies after putting in a full day as a high school art teacher for the Pearl River School District, located near his studio/residence in Yorktown
Heights, NY.



Martin is particularly drawn to Gettysburg. The statuary of the 20th Maine , the North Carolina State Monument and Maj. General John Reynolds' statue have all been subjects for Martin's trained eye. He cannot say for sure why he is so attracted to the south-central Pennsylvania site. It could be that the site's rocky hills and swales, woodlots and fields trigger his imagination " is his latest effort dedicated to that incredible engagement, and he hopes it will be available as a print by the summer of 2000, in time for his
exhibition of 20 original works that will be held at the National Park Service's Cyclorama Building at Gettysburg.

In "A Light Caress", Martin drew the sun setting symbolically behind South Mountain, directly over the Virginia Monument, to convey the essence of the South's lost cause. "All roads from Gettysburg," he contends, "led to Appomattox Court House for the Confederacy."

Martin loves Gettysburg and says that he is dismayed by the encroachment of modern buildings on the battlefield. He says with emphasis that "preservation is the most important battle for the Civil War Community. It is a battle that is imperative to win' if his children, Alyssa and Paul IV, are to experience the same feelings as their father when visiting a scene of past carnage and sacrifice.

Martin argues that Americans need to realize that "freedom doesn't come cheap and we need to honor past sacrifices by preserving these fields of combat." He designates a portion of the proceeds of every print to a preservation organization. The Association for the Preservation of Civil War Sites, the Civil War Library and Museum in Philadelphia and the Central Virginia Battlefields Trust, among others, have all been helped by his largesse.

Civil war Battlefields are "the vision place of souls,' according to a phrase uttered by Joshua Lawrence Chamberlain and used by Martin as the title of his 20th Maine print. His artistic endeavors and preservationist vision seek to ensure that other Americans will experience the same inspiration that moves Martin to create his art.



---
| America s C W: 1999 | N. County News: 2001 | N. County News: 2000 | Rockland & Westchester Jrnl News: 2001 | Westchester Journal News: 2000 | Rockland Journal News: 2000 | Civil War News: 2000 | patent trader:2003 | Gettysburg Times 2004 | patent trader2005 |
---
| Battlefield Preservation | Gettysburg Exhibit | West point Exhibit | Union League Exhibit | Our Studio | In The News | Our Studio | Framing | Preservation | VFW Award | Gibbs Exhibit | Randolph County Arts Center | 1942 GPW | Reenacting and living history |
---
| Return Home | Limited Edition Prints | About us: Bio/Exhibits | 9-11 Fund Raiser | What's New | Contact Us | Events Schedule | Friends- Preservation Links | Mini Prints, Notecards, Posters | book covers |