Yorktown resident offers unique look at Civil War.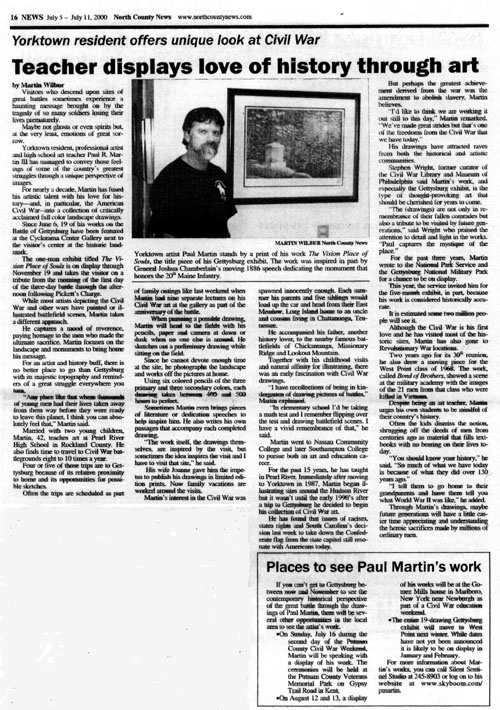 Teacher displays love of history through art

by Martin Wilbur

Visitors who descend upon sites of great battles sometimes experience a haunting message brought on by the tragedy of so many soldiers losing their lives prematurely. Maybe not ghosts or even spirits but, at the very least, emotions of great sorrow.

Yorktown resident, professional artist and high school teacher Paul R. Martin III has managed to convey those feelings of some of the country's greatest struggles through a unique perspective of images.

For nearly a decade, Martin has fused his artistic talent with his love for history-and in particular, the American civil war- into a collection of critically acclaimed full color landscape drawings.

Since June 6, nineteen of his works on the Battle of Gettysburg have been featured at the cyclorama Center Gallery next to the visitor's center at the historic landmark. The one-man exhibit titled "The Vision Place of Souls" , is on display through November 19 and takes the visitor on a tribute from the morning of the first day of the three day battle through the afternoon following Pickett's Charge.

While most artists depicting the Civil War and other wars have painted or illustrated battlefield scenes, Martin takes a different approach. He captures a mood of reverence, paying homage to the men who made the ultimate sacrifice. Martin focuses on the landscape and monuments to bring home his message.

For an artist and history buff, there is no better place to go than Gettysburg with its majestic topography and reminders of a great struggle everywhere you turn. "Any place like that where thousands of young men had their lives taken away from them before they were ready to leave this planet, I think you can absolutely feel that," Martin said.

Married with two young children, Martin 42, teaches art at Pearl River High School in Rockland County. He also finds time to travel to Civil War battlegrounds eight to ten times a year. Four or five of those trips are to Gettysburg because of its relative proximity to home and its opportunities for possible sketches. Often the trips are scheduled as part of family outings like last weekend when Martin had nine separate lectures on his Civil War Art at the gallery as part of the anniversary of the battle.

When pursuing a possible drawing, Martin will head to the fields with his pencils, paper and camera at dawn or dusk when no one else is around. He sketches out a preliminary drawing while sitting on the field. Since he cannot devote enough time at the site, he photographs the landscape and works off the pictures at home.

Using six colored pencils of the three primary and three secondary colors, each drawing takes between 400 and 500 hours to perfect.

Sometimes Martin even brings pieces of literature or dedication speeches to help inspire him. He also writes his own passages that accompany each completed drawing. "The work itself, the drawings themselves, are inspired by the visit, but sometimes the idea inspires the visit and I have to visit that site." he said.

His wife Joanne gave him the impetus to publish his drawings in limited edition prints. Now family vacations are worked around visits.

Martin's interest in the Civil War was spawned innocently enough. Each summer his parents and five siblings would load up the car and head from their East Meadow, Long Island home to an aunt and uncle and cousins living in Chattanooga, Tennessee. He, accompanied his father, another history lover, to the nearby famous battlefields of Chickamauga, Missionary Ridge and Lookout Mountain.

Together with his childhood visits and natural affinity for illustrating, there was an early fascination with Civil War drawings. "I have recollections of being in kindergarten of drawing pictures of battles," Martin explained. "In elementary school I'd be taking a math test and I remember flipping over the test and drawing battlefield scenes. I have a vivid remembrance of that," he said.

Martin went to Nassau Community College and later Southampton College to pursue both an art and education career.

For the past 15 years, he has taught in Pearl River. Immediately after moving to Yorktown in 1987, Martin began illustrating sites around the Hudson River but it wasn't until the early 1990's after a trip to Gettysburg he decided to begin his collection of Civil War art.

He has found that issues of racism, states rights and South Carolina's decision last week to take down the Confederate flag from the state capitol still resonate with Americans today.

But perhaps the greatest achievement derived from the war was the amendment to abolish slavery, Martin believes. "I'd like to think we are working it out still to this day," Martin remarked. "We've made great strides but that's one of the freedoms from the Civil War that we have today."

His drawings have attracted raves from both the historical and artistic communities. Stephen Wright, former curator of the Civil War Library and Museum of Philadelphia said Martin's work, and especially the Gettysburg exhibit, is the type of thought-provoking art that should be cherished for years to come. "The drawings are not only in remembrance of their fallen comrades but also a tribute to be visited by future generations," said Wright, who praised the attention to detail and light in the works. "Paul captures the mystique of the place."

For the past three years, Martin wrote to the National Park Service and the Gettysburg National Military Park for a chance to be on display. This year, the service invited him for the five month exhibit, in part, because his work is considered historically accurate.
It is estimated some two million people will see it.

Although the Civil War is his first love and he has visited most of the historic sites, Martin has also gone to Revolutionary War locations.

Two years ago for its 30th reunion, he also drew a moving piece for the West Point class of 1968. The work, called "Bond of Brothers" , showed a scene at the military academy with images of the 21 men from the class who were killed in Vietnam.

Despite being an art teacher, Martin urges his own students to be mindful of history. Often the kids dismiss the notion, shrugging off the deeds of men from centuries ago as material that fills textbooks with no bearing on their lives today. "You should know your history," he said. "So much of what we have today is because of what they did over 130 years ago." "I tell them to go home to their grandparents and have them tell you what World War II was like,' he added.

Through Martin's drawings, maybe future generations will have a little easier time appreciating and understanding the heroic sacrifices made by millions of ordinary men.


Places to see Paul Martin's work.

The entire 19 drawing Gettysburg exhibit will move to
West Point next fall . While dates have not yet been announced it is likely to be on display in September, October and November of 2001.

For more information about Martin's works, you can call Silent Sentinel Studio at 914-245-8903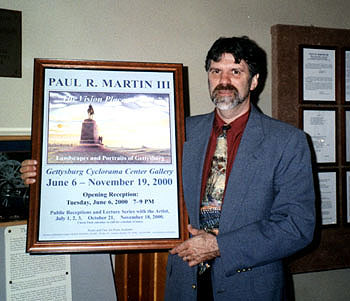 Mr. Martin at his Exhibit at the Gettysburg National Mikitary Park.










---
| America s C W: 1999 | N. County News: 2001 | N. County News: 2000 | Rockland & Westchester Jrnl News: 2001 | Westchester Journal News: 2000 | Rockland Journal News: 2000 | Civil War News: 2000 | patent trader:2003 | Gettysburg Times 2004 | patent trader2005 |
---
| Battlefield Preservation | Gettysburg Exhibit | West point Exhibit | Union League Exhibit | Our Studio | In The News | Our Studio | Framing | Preservation | VFW Award | Gibbs Exhibit | Randolph County Arts Center | 1942 GPW | Reenacting and living history |
---
| Return Home | Limited Edition Prints | About us: Bio/Exhibits | 9-11 Fund Raiser | What's New | Contact Us | Events Schedule | Friends- Preservation Links | Mini Prints, Notecards, Posters | book covers |