Teacher to receive honor for artwork: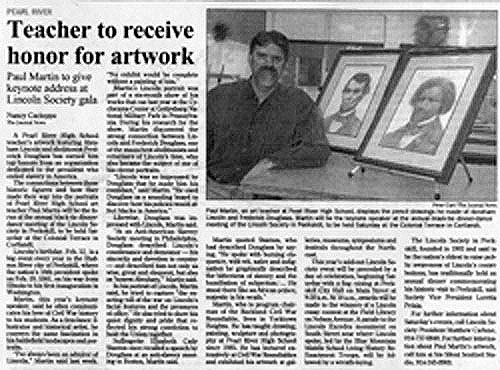 Paul Martin to give keynote address at Lincoln Society gala

by Nancy Cacioppo
The Journal News

PEARL RIVER-PEEKSKILL: A Pearl River High School teacher's artwork featuring Abraham Lincoln and abolitionist Frederick Douglass has earned him top honors from an organization dedicated to the president who ended slavery in America.

The connection between these historic figures and how they made their way into the portraits of Pearl River High School Art teacher Paul Martin, will e the focus of the annual black-tie dinner-dance meeting of the Lincoln Society in Peekskill, to be held Saturday at the Colonial Terrace in Cortlandt.

Lincoln's birthday, Feb. 12, is a big event every year in the Hudson River city of Peekskill, where the nation's 16th president spoke on Feb. 19, 2861, on his way from Illinois to his first inauguration in Washington.

Martin, this year's keynote speaker, said he often communicates his love of Civil War history to his students. As a free-lance illustrator and historical artist, he conveys the same fascination in his battlefield landscapes and portraits. "I've always been an admirer of Lincoln," Martin said last week. "No exhibit (of Civil War art) would be complete without a painting of him."

Martin's Lincoln portrait was part of a six-month show of his works that ran last year at the Cyclorama Center at Gettysburg National military Park in Pennsylvania. During his research for the show, Martin discovered the strong connection between Lincoln and Frederick Douglass, one of the staunchest abolitionists and reformers of Lincoln's time, who also became the subject of one of his recent portraits. "Lincoln was so impressed by Douglass that he made him his confidant," said Martin. "He used Douglass as a sounding board to discover how his policies would affect blacks in America."

Likewise, Douglass was impressed with Lincoln, Martin said "At an Anti-American Slavery Society meeting in Philadelphia, Douglass described Lincoln's countenance and demeanor, his sincerity and devotion to country- and described him not only as wise, great and eloquent, but also as 'honest Abraham,'" Martin said.

In his portrait of Lincoln, Martin said he tried to capture "the exacting toll of the war on Lincoln's facial features and the pressures of office." He also tried to show his quiet dignity and pride that reflected his strong conviction to hold the Union together.

Suffragette Elizabeth Cady Stanton once recalled a speech by Douglass at an anti-slavery meeting in Boston, Martin said. Martin quoted Stanton, who had described Douglass by saying, "He spoke with burning eloquence, with wit, satire and indignation he graphically described the bitterness of slavery and the humiliation of subjection. ...He stood there like an African prince, majestic in his wrath."

Martin, who is program chairman of the Rockland Civil war Round Table, lives in Yorktown Heights. He has taught drawing, painting, sculpture and photography at Pearl River High School since 1985. He has lectured extensively at Civil war Round Tables and exhibited his artwork at galleries, museums, symposiums and festivals throughout the Northeast.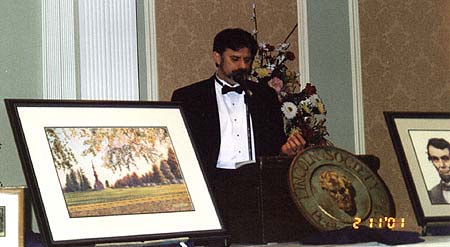 This year's sold-out Lincoln Society event will be preceded by a day of celebration, beginning Saturday with a flag raising at Peekskill City Hall on Main Street at 9:30 AM. At 10 AM, awards will be made to the winners of a Lincoln essay contest at the Field Library on Nelson Avenue. A parade to the Lincoln Excedera Monument on South Street near where Lincoln spoke, led by the Blue Mountain Middle School Living History Re-enactment troops, will be followed by a wreath-laying.

The Lincoln Society in Peekskill, founded in 1903 and said to be the nation's oldest to raise public awareness of Lincoln's contributions, has traditionally held an annual diner commemorating his historic visit to Peekskill, said Society Vice President Loretta Pelaia.

For further information about Saturday's events, call Lincoln Society President Loretta Palaia at 914-737-0666. For further information about Paul Martin's artwork, call him at his Silent Sentinel Studio at 914-245-8903.






---
| America s C W: 1999 | N. County News: 2001 | N. County News: 2000 | Rockland & Westchester Jrnl News: 2001 | Westchester Journal News: 2000 | Rockland Journal News: 2000 | Civil War News: 2000 | patent trader:2003 | Gettysburg Times 2004 | patent trader2005 |
---
| Battlefield Preservation | Gettysburg Exhibit | West point Exhibit | Union League Exhibit | Our Studio | In The News | Our Studio | Framing | Preservation | VFW Award | Gibbs Exhibit | Randolph County Arts Center | 1942 GPW | Reenacting and living history |
---
| Return Home | Limited Edition Prints | About us: Bio/Exhibits | 9-11 Fund Raiser | What's New | Contact Us | Events Schedule | Friends- Preservation Links | Mini Prints, Notecards, Posters | book covers |