The USS Shaw and Her Flag at Pearl Harbor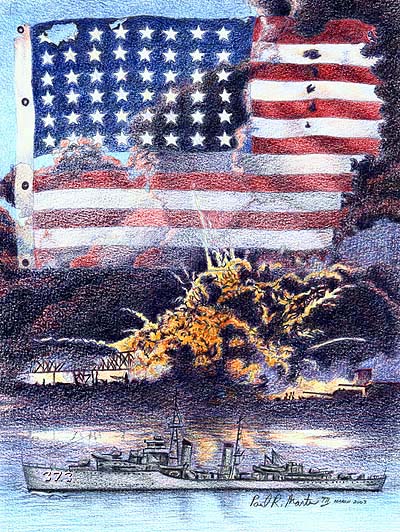 "So Gallantly Streaming"
The USS Shaw and her flag at Pearl Harbor, December 7, 1941
Image size 8" x 11"
Release Date: April 2003
Edition Size: S/N Regular Edition of 250
Price: Regular Edition of 250: $80.00 each, Unframed


Price: Regular edition of 250: $180.00 each, Handsomely Framed plus $10.00 Shipping. Click BELOW.


"SO GALLANTLY STREAMING"
The USS SHAW (DD-373) and her flag:
Pearl Harbor, December 7, 1941

"So Gallantly Streaming" was inspired by the tattered battle flag of the Mahan class destroyer, USS Shaw, that is on permanent display at the US Naval Academy Museum. By combining a pre-war image of the ship in the foreground and setting the scene from a famous photograph of the Shaw exploding, I have tried to honor the sailors who made the ultimate sacrifice on the "Day of Infamy".

The USS Shaw, (DD-373) a 1,500-ton Mahan class destroyer was built at the Philadelphia Navy Yard in Pennsylvania. She was launched on 28 October 1935, and commissioned on 18 September 1936 with Lt. Comdr. E. A. Mitchell in command. She made a trans-Atlantic shakedown cruise in 1937, steamed to South America in mid-1938, and transferred to the Pacific soon thereafter. Operations along the west coast and in Hawaiian waters followed in 1939-41. In November of 1941 she entered the Navy Yard at Pearl Harbor for repairs, dry docking in YFD-2.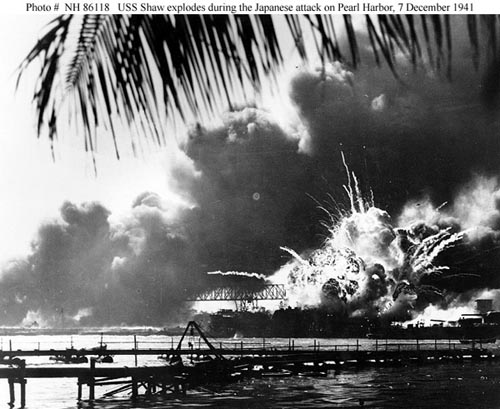 The famous UPI photo of the Shaw exploding in dry-dock. This photo was re-created in color in my artwork and along with the Shaw's tattered flag at Annapolis it inspired my painting.
Shortly after 9:00 AM on December 7, 1941, a second wave of eighty dive-bombers attacked the United States base at Pearl Harbor. Finding battleship row ablaze and covered in thick black smoke, a squadron of dive-bombers from the carrier Akagi veered off to look for new targets. Several planes found the destroyer Shaw undergoing repairs in the dry dock across from Ford Island. Attacking the Shaw, the dive bombers unleashed their bombs on the defenseless ship. At about 9:12, two 550 pound bombs penetrated the main deck and exploded near the 5 inch guns and the crew's mess hall. A third bomb scored a direct hit on the fuel tanks and the resulting fires ignited the forward magazines. A tremendous explosion resulted, the second largest explosion that morning next only to that of the USS Arizona. The huge fireball was seen and felt all over Pearl Harbor. Navy seamen at Ford Island Naval Air Station, about a half-mile away had to "hit the deck" to avoid being struck by flying debris from the exploding ship. Admiral Kimmel, commander of the Pacific fleet, was described as having a "look of horror" on his face when he saw the Shaw blow up.





An image of the Shaw taken February 9, 1942 shows her temporary "short" bow. A temporary mast forward and steering control aft are also evident. All 28 crew members who made the voyage from Pearl to Mare Island, San Francisco CA were volunteers. The Navy felt they might not make it to port at Mare!

The floating dry dock sank and the Shaw was broken in two, severed just behind the bridge. Miraculously, only twenty five crewmen were killed in the resulting fires and explosion and although originally thought to be a total loss, it was soon realized that damage in her machinery spaces and further aft was minor. In mid-December, she was hauled out of the water and received urgent repairs including a temporary short bow and other fittings. The repairs were completed by late January, 1942, in the recently rebuilt floating dry-dock YFD-2. Most armament was removed but she retained one five-inch gun for self-defense. Following sea trials, which proved that she could remain afloat and maintain 25 knots, Shaw left Pearl Harbor on 9 February 1942 to steam to the Mare Island Navy Yard in San Fransisco. The crew of 28 volunteers, representing only those essential to man her during the dangerous voyage, included EM3c Alvin Wagley. A new bow section and other major repairs were completed in late June, 1942. Incredibly, she arose from the ashes of Pearl Harbor to the same appearance and combat effectiveness she had prior to December 7.

The resurrected USS Shaw then spent several months in training and convoy escort duties. Sent to the South Pacific in October 1942, she participated in the Battle of the Santa Cruz Islands late in that month. While supporting the Guadalcanal Campaign, she ran aground at New Caledonia on 10 January 1943, requiring a return trip to dry dock at Pearl Harbor for more extensive repairs to her hull, propellers and sound gear.

Shaw returned to the war zone in October 1943 and took part in operations around New Guinea and New Britain. She was hit in an air attack off Cape Gloucester on 26 December 1943. 36 men were injured with three ultimately succombing to their wounds. After repair of that damage, she operated in the Central Pacific in the Marshalls and the Marianas, including participation in the invasions of Saipan and Guam. From October 1944 into 1945, Shaw escorted Western Pacific convoys in Leyete Gulf, the Philipines and New Guinea and helped liberate Luzon, Manila Bay and other parts of the Philippines. When the Pacific war ended in August 1945, she was deemed too old for retention in the post-war fleet and was sent to the US east coast for inactivation. Decommissioned in October 1945, the USS Shaw was unceremoniously scrapped in July of 1946. The proud and scrappy USS Shaw earned eleven battle stars during her unbelievable and illustrious carreer in World War II.
.
"So Gallantly Streaming" pays tribute to the gallant sailors of the USS Shaw and honors the efforts of all our citizen soldiers, who from 1941 through 1945, stopped cold the tyranny of Hitler's Nazi Germany in Europe and the Japanese Empire's aggressions in the Pacific. On battlefields across the globe, they courageously picked up their weapons, not to conquer, but to liberate, not to destroy but to restore, and "did nothing less, than save the world."

PAUL R. MARTIN III

NAME: Shaw
HULL NUMBER: DD-373

DIMENSIONS:

Displacement: 1,500 tons
Waterline Length: 334'
Length Overall: 342'
Maximum Beam: 35'
Maximum Draft: 9' 8"

ARMAMENT:

4x5" 38 Cal (single mounting)
12x21" Torpedo Tubes (quadruple mounting)

Contact Us for More Information: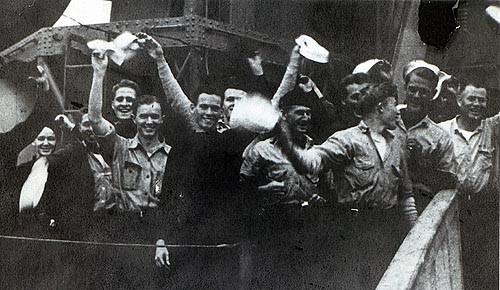 Recently I was contacted by Joseph Wagley, son of EM3c Alvin Wagley. He graciously provided several of his father's personal photos and remembrances.

The "Happy Bluejackets" photo shows the crew waving their "Dixie Cups" as they celebrated the Shaw docked at Mare Island Navy Yard after her arduous solo journey across the Pacific.

EM3c (Electricians Mate 3rd Class) Alvin Wagley is on the far left of the photo with his hand on his cap. The tall smiling sailor, 3rd from the left, was one of Alvin's best buddies "Big Brown". The sailor on the far right, just at the edge of the photo was lost during the air attack on the Shaw off of Cape Gloucester on December 26, 1943. Wagley recalls that he just vanished when a bomb struck the ship. Whether he was killed by the explosion itself or blown overboard was not known. He didn't make the evening muster and his body was never discovered. He was listed as MIA.

Anyone knowing the identity of this brave young man or any of the other members of the crew visible in this photo, please contact us so we can honor their names and service appropriately. (see contact info below)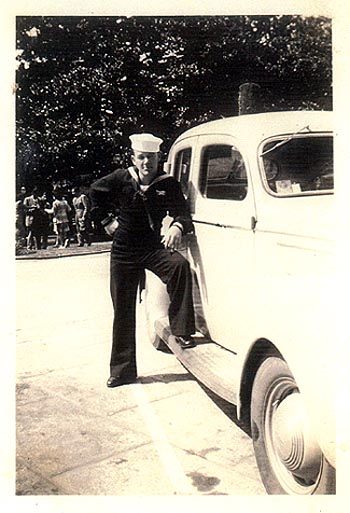 EM3c Alvin Wagley

A dashing Alvin Wagley on leave in San Francisco while the Shaw was under-going repairs.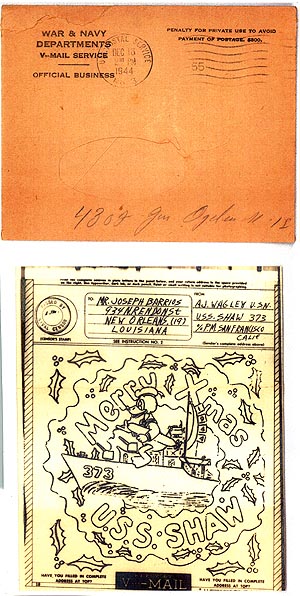 Wagley was also quite an accomplished artist as this Christmas 1944 v-mail letter to his grandmother and grandfather will attest. Donald Duck sits astride the Shaw holding a torpedo with the ship encircled by a wreath.

Wagley also drew cartoons for the ship's newsletter, the "Gedunker."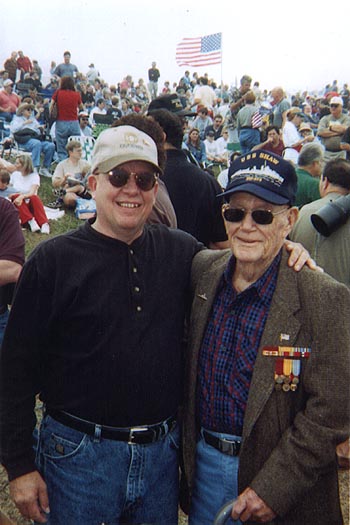 Remember and Honor our veterans!

This photo tugs at your heartstrings and tells it all! Proud son Joseph Wagley hugs his Dad at Pontchartrain Beach in New Orleans LA. ( I also love the flag "So Gallantly Streaming" in the background)

Father and son attended the ceremonies commemorating the opening of the Pacific Wing of the National D-Day Museum on December 8, 2001. There was a re-enactment of the attack on Pearl Harbor and the invasion of Tarawa. A mock "attack was staged by the Confederate Air Force and several "Zeros" (Zekes) buzzed the crowd and "bombed" the beach.

Joseph was captivated by the action and lost track of his dad. He searched through the crowd until he found his father seated in his wheel chair, holding his head in his hand. Joe asked, "What's wrong, Pop?" Alvin Wagley looked up slowly, and with a faraway gaze his eyes teared up. "I haven't seen those planes like this since the war", he replied, "I remember how scared we all were and how young."

Said Joseph later, " I'll never forget that moment - it's intensity. Even after all those years, the emotions were still there; the memories just beyond the surface."

Alvin Wagley passed away just six months later on May 9th, 2002, four months shy of his 83rd birthday. He had served on the USS Shaw during his country's darkest hour of need. He earned the Asian-Pacific medal with 9 battle stars and the Philipines Liberation medal with 2 battle stars. From December of 1941 until her decommissioning in 1945, Alvin Wagley and his "band of brothers" fought the "good fight". They were ALL "Heroes". Many had no homecoming. We owe them all a great debt of gratitude!

I would like to thank Joseph Wagley and his family for sharing their father's photos and his stories. If you know of any crew members of the Shaw or their families and would like to add personal photos or remembrances to this web page, please
email us

or
contact us 914-245-8903

to contact Joseph Wagley at 985-892-8443
wagleyj@bellsouth.net




Chief Fireman, Robert N. Poole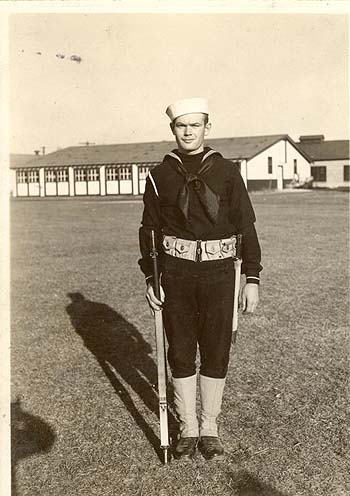 FC3c Robert N. Poole was the Chief Fireman on the USS Shaw and survived the attack on Pearl Harbor. This photo was probably taken in Long Beach California in mid 1941, shortly after Robert completed basic training and just before being assigned to the USS Shaw.

Recently I was contacted by Lori Poole Trahan, Daughter of Shawman, Robert N. Poole. She graciously has allowed me to share these photos from her father's personal photo album.
Poole survived the attack on Pearl Harbor and served on the Shaw throughout the war.

In 2002, Robert N. Poole told his story to his wife, Lois. Lois wrote and submitted the article to a special July 4 Veterans Issue Edition of the Antelope Valley Press in California. Here, thanks to the courtesy of Poole's family and the Antelope Valley Press, is Robert N. Poole's remarkable story. It is reprinted below in it's entirety.




The Shaw's Crew, 1941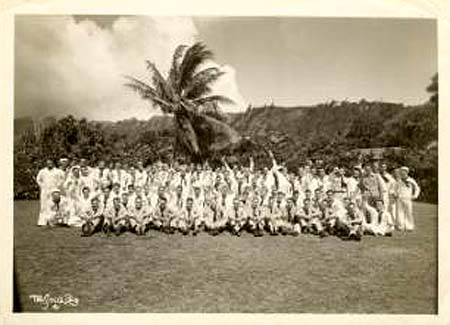 This is a photo of the full crew of the USS Shaw from Poole's photo album taken sometime in 1941. Robert Poole is in the 2nd row sitting, 7th from the right.
At the urging of my wife, Lois, I, Robert N. Poole, am telling the following story for my children and for history.

On October 15, 1940, I joined the Navy. I was 20 years old. My best friend, who had joined up, came home for a visit. He was dressed in his snappy uniform and was smitten with the romance of the high seas. I was tired of milking cows and shoveling sugar beets, and the Navy offered a new life for a North Dakota farm boy.

I went to Grand Forks, ND, signed up and was immediately sent to the Great Lakes Training Station in Chicago. I stayed there from October to December 1940 when I was assigned to the USS Shaw, a destroyer docked at Mare Island, California. I got on board and shortly thereafter we set sail for Pearl Harbor.

At this time I was an apprentice seaman whose duties were to swab the decks and paint the bulkheads, a constant job. Pure drudgery. Eventually I made Chief Firecontrolman.

During our stay in Pearl Harbor we went to sea and participated in maneuvers. We also made a goodwill trip to New Zealand, promoting favorable relationships between the United States and Australia. We always returned to Pearl Harbor.

On December 6, 1941, we were in drydock in Pearl Harbor. It was a usual day on board. Some of the crew were busy scraping the bottom of the ship and repainting it. In the evening we watched a movie on the fantail of the ship and went to bed.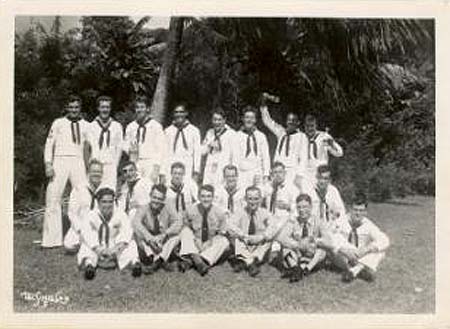 Crew of the USS SHAW, smaller group shot. Robert Poole sitting far right.
On December 7, I got up and went to the bathroom on the drydock, since the ship's bathrooms were unusable. I washed and brushed my teeth and was returning to the ship when I saw a plane diving on Ford Island. It was dropping bombs and I wondered why our own planes were bombing our own airfield. Suddenly the plane banked and I saw the "meatball" on the fuselage and realized we were under attack by a Japanese plane.

I immediately ran to general quarters onboard ship. The first wave of enemy planes had arrived!

Since we were unable to fire our own guns because we were sitting in drydock, all we could do was watch as the torpedo planes and bombers desacrated our battleships.

During the second wave a dive bomber dove toward the Shaw and dropped a bomb that landed about 20 feet in front of us. The plane was so close we saw the pilot's face.

The bomb exploded, sending shrapnel up through the deck and the fire control platform where we all stood. The chief fire controlman got a piece of shrapnel in his foot. We decided it was time to get the hell out of there!

Another fire controlman froze as he stood on the ladder-our only way of escape. I slapped him in the face and yelled. "Get the hell out of here. The ship's on fire!"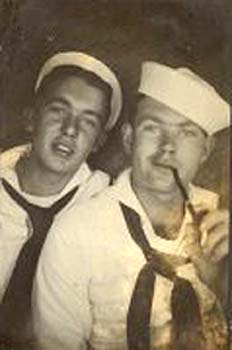 Robert Poole (Right) and friend Lyle Phillips (left) in a jovial moment taken in a photo booth at Oahu.
We started down the ladder and went to the main deck onto the drydock and decided to swim to shore. I had on a pair of dungarees and a T-shirt. I took them off, carefully folded them and laid them on the dock. Unsure about my watch, I decided to leave it on because it was supposed to be waterproof. (Kind of funny, the dumb things we remember.)

After a fellow shipmate and I reached shore, we decided we had to go back and help the injured mates. Just as we got them and arrived on shore, the Shaw's magazine blew. We dove behind a pile of lumber as the blue sky filled with smoke and the acrid smell of burning oil and the stench of burning flesh washed over us. Oil slicks began to appear on the water in the harbor. We hot-wired a car that was sitting nearby and took the injured men to the hospital.

When we arrived all I had on was a pair of undershorts, which by this time were covered with blood from the wounded men. The nurse insisted that I had been injured and ordered me to drop my skivvies so I could prove I was all right.

The Shaw was on fire, so we headed back to the drydock and watched. On the way back we stopped at a small gas station, where I stole a pair of dungarees, but as it turned out they were too small. Eventually we went to the receiving barracks, where we still had no clothes. The Red Cross arrived and gave each of us a miniature sewing kit.

We were finally issued clothes and spent the next 24 hours sitting there listening to rumours that the Japanese had landed on the island. We took turns that night standing sentry with a small rifle. We were terrified, in shock and traumatized!

The next day we returned to the ship. It was then that I learned that my best friend, Bob Petz, (Robert A. Petz, Sea 1c) had been killed during the raid. We regrouped and stayed on the ship. After a false bow was put on the Shaw it sailed back to Mare Island for repairs.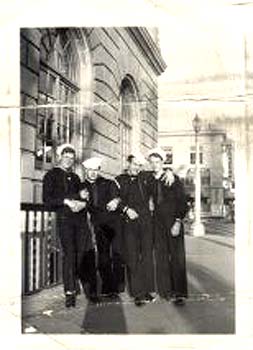 Robert Poole 2nd from left, rest unknown, possibly taken in New Zealand.
In the meantime I was transferred to the USS Porter, where I sailed to Midway and then Wake Island. After the Porter I was transferred to the USS Whitney - a destroyer repair ship. I was there for only a few days when I saw the Shaw's skipper come aboard. I sought him out and he said, "Go get your gear." He took me with him and got me transferred back to the Shaw.

It wasn't long before the Shaw was back in service. We participated in the Battle of Santa Cruz in October 1942. During this battle the USS Porter was struck by a torpedo and was going down. We went alongside and removed the crew, then we sank the Porter with our own torpedos. We stayed in the South Pacific and were involved in the Third and Fourth Salvo Island battles.

After Pearl Harbor was attacked, my family didn't know if I was safe until they received my letter in February 1942-a letter written and mailed only a few days after December 7.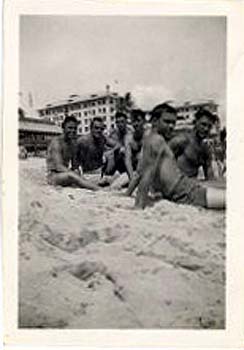 Robert Poole center, rest unknown, relaxing on Waiikiki Beach, 1941.

Everyday life aboard the USS Shaw.

What did we eat on board? We had Argentina corned beef; canned peas; dehydrated potatoes; bread made out of flour with maggots; powdered eggs; and butter that tasted like axle grease and wouldn't even melt.

We were not permitted to leave the ship when we dropped anchor off many of the islands. At New Guinea the natives rowed out to our ship and traded bananas for cigarettes. One time they tried to trade a little girl for cigarettes. We declined and they were offended.

Many of the places where we anchored off shore were putrid with bloated bodies bobbing in the water. Especially in Saipan. We also faced the constant fear of Kamikaze pilots bent on self-destruction and martyrdom for the Emperor. The Shaw participated in numerous amphibious landings throughout the Pacific, was under enemy air attack and engaged in surface actions.

We were permitted to go on shore at the New Hebrides Islands, where we had the opportunity to see the natives. Their houses were four poles with a roof. When they were inside their houses they wore no clothes, but as soon as they stepped outside they put on clothing. They were curious about us and we were curious about them.

We quite often had a pet on board ship. When we were bombed on New Britain, our little dog was well cared for and protected. She had a special place to go to in general quarters. She developed an uncanny ability to know when a Japanese plane was coming. When we saw her head for general quarters, we were on alert. At one time we also had a monkey on board.

Edgar Rice Burroughs, the author of the Tarzan series and then a war correspondant and journalist, made a trip with us. He was an affable fellow and a pleasure to have on board. He attempted to entertain the crew and often organized boxing matches.

Six months before Japan surrendered, I had been transferred from active duty to the Crane Naval Supply Depot near Bloomington, Indiana. I guess the Navy decided I'd seen enough devastation and mayhem. After I was honorably discharged on October 14, 1946, I went to work for General Electric in Schenctedy, NY.

Many times over the years people have asked about my experiences during World War II. This is the first time I have discussed my experiences with anyone, including my wife and children. I just don't like to talk about it.

I lost about 20 shipmates-kids really-while the rest of us survived, married, had children and lived out our lives.

Those lost boy-men were the real heroes of Pearl Harbor, so let's make this their story, not mine.

Robert N. Poole, 2002.




Casualty List, USS Shaw
KIA, Pearl Harbor, December 7, 1941

WE REMEMBER THEIR SACRIFICE!

Frank J. Amunziato, Sea1c ------ Anthony Bilyi, SC3c
Albert J. Bolen, F1c ------ Guy W. Carroll, QM2c
Leon Egbert, MAttc ------ Fred Fugate, CCStd (PA)
Joseph L. B. Gaudrault, Sea1c ------ Paul G. Gosnell, GM1c
Rodney W. Jones, Sea2c ------ John S. McAllen, Sea2c
Robert C. McQuade, Sea1c ------ Clyde C. Moore, RM2c
Chester L. Parks, Sea1c ------ George A. Penuel, Jr., BM2c
Robert A. Petz, Sea1c ------ Daniel P. Platschorre, Sea2c
Edward J. Quirk, F1c ------ John T. Rainbolt, F1c
Benjamin N. Russell, AS ------ Johnnie H. Spaeth, Sea2c
Frank W. Stief, Jr., SC2c ------ Palmer L. Taylor, MAtt1c
James R. Westbrook, Sea1c ------ Clyde Williams, Sea1c
Ernest C. Porter, Jr. EM2c



Robert N. Poole passed away on January 27, 2004 at 84 years of age. To Lori and her siblings he was a gallant but modest hero, and they take pride in his accomplishments and his service to our Country. My hope is for future generations to feel that same pride and to honor his memory, the memory of his shipmates, and the thousands of civilian soldiers, airmen and sailors just like Poole, who picked up their guns not to conquer but to liberate, not to repress but to set free, and in doing so brought liberty and freedom to millions of people around the world! I would like to thank Lori Poole Trahan and her family for sharing their father's photos and stories.

If you know of any crew members of the Shaw or their families and would like to add personal photos or remembrances to this web page, please
email us

or
contact us 914-245-8903

To contact Lori Poole Trahan








GM1c Paul G. Gosnell, KIA December 7, 1941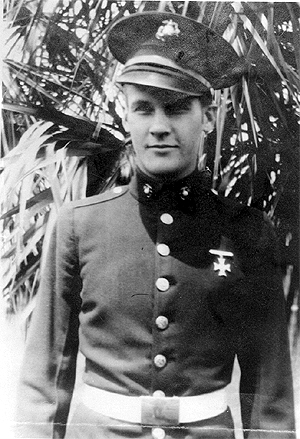 Photos of Paul G. Gosnell courtesy of Paul and Kim Gosnell, Paul's grandson and his wife.

We are pleased to be able to share these photos to ensure that Paul G. Gosnell's sacrifice will never be forgotten!.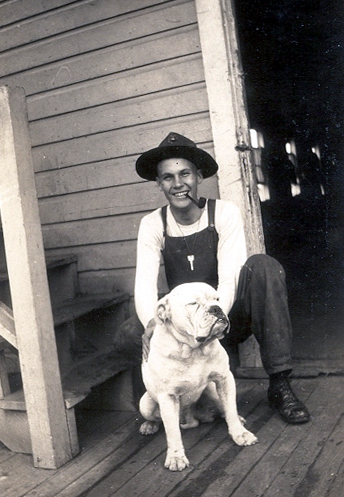 GM1c Paul G. Gosnell and friend

If you know of any crew members of the Shaw or their families and would like to add personal photos or remembrances to this web page, please
email us

or
contact us 914-245-8903

Also see our NEW!: Tribute to POCO MOCO B-24J, 44-49451 14th AF, 308th BG, 375th BS,
and our other WWII prints and pages listed below.

God bless our troops and God Bless America!

"Honoring those who served!"

Paul R. Martin III
Artist






---
| American Beauty | AmericanBeauty2 | So Gallantly Streaming | silver wings |
---
| Gettysburg Series | Great American Portrait Series | WWII Series | Revolutionary War Series | Civil War Series | West Point Series | Banners Of Glory Series |
---
| Return Home | Limited Edition Prints | About us: Bio/Exhibits | 9-11 Fund Raiser | What's New | Contact Us | Events Schedule | Friends- Preservation Links | Mini Prints, Notecards, Posters | book covers |