Putting Focus on History: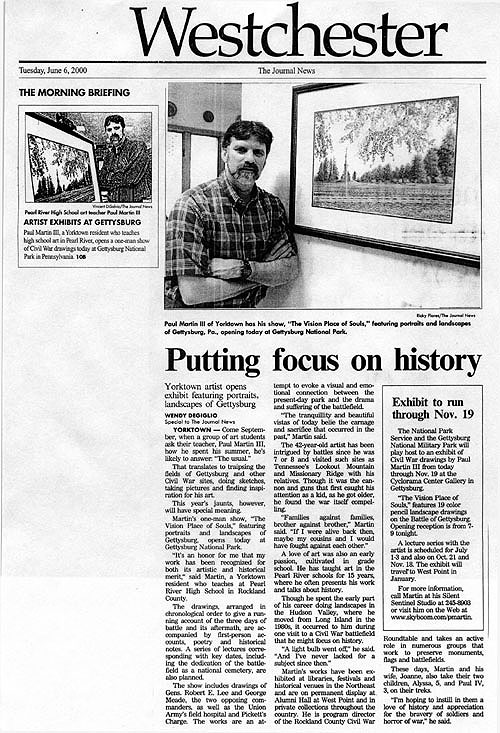 Yorktown Artist opens exhibit featuring portraits, landscapes of Gettysburg

by Wendy Degiglio
Special to The Journal News

YORKTOWN- Come September, when a group of art students ask their teacher, Paul Martin III, how he spent the summer, he's likely to answer, "The usual."

That translates to traipsing the fields of Gettysburg and other Civil war sites, doing sketches, taking pictures and finding inspiration for his art.

This year's jaunts, however, will have special meaning.

Martin's one-man show, "The Vision Place of Souls", featuring portraits and landscapes of Gettysburg, opens today at Gettysburg National Park.

"It's an honor for me that my work has been recognized for both its artistic and historical merit," said Martin, a Yorktown resident who teaches at Pearl River High School in Rockland County.

The drawings, arranged in chronological order to give a running account of the three days of battle and its aftermath, are accompanied by first person accounts, poetry and historical notes. A series of lectures corresponding with key dates, including the dedication of the battlefield as a national cemetery, are also planned.

The show includes drawings of Gens. Robert E. Lee and George Meade , the two opposing commanders, as well as the Union Army's field hospital and Pickett's Charge. The works are an attempt to evoke a visual and emotional connection between the present-day park and the drama and suffering of the battlefield. "The tranquillity and beautiful vistas of today belie the carnage and sacrifice that occurred in the past," Martin said.

The 42 year-old artist has been intrigued by battles since he was 7 or 8 and visited such sites as Tennessee's Lookout Mountain and Missionary Ridge with his relatives. Though it was the cannons ad the guns that first caught his attention as a kid, as he got older he found the war itself compelling.

"Families against families, brother against brother," Martin said, "if I were alive back then, maybe my cousins and I would have fought against each other."

A love of art was also an early passion, cultivated in grade school. He has taught art in the Pearl River Schools for 15 years, where he often presents his work and talks about history.

Though he spent the early part of his career doing landscapes in the Hudson Valley, where he moved from Long Island in the 1980's, it occurred to him during one visit to a Civil War battlefield that he might focus on history. "A light bulb went off," he said. "And I've never lacked for a subject since then."

Martin's works have been exhibited at libraries, festivals and historical venues in the Northeast and are on permanent display at Alumni Hall at West Point and in Private collections throughout the country. He is program director of the Rockland County Civil War Round Table and takes an active role in numerous groups that work to preserve monuments, flags and battlefields.

These days, Martin and his wife, Joanne, also take their two children, Alyssa, 5, and Paul IV, 3, on their treks. "I'm hoping to instill in them a love of history and appreciation for the bravery of soldiers and the horror of war," he said.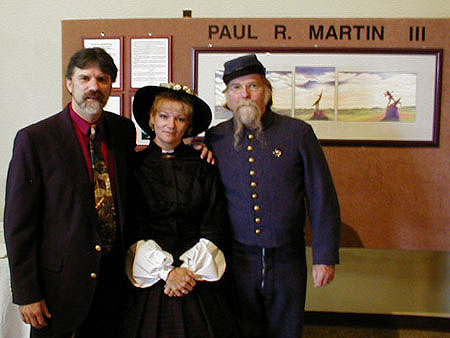 EXHIBIT TO RUN THROUGH NOV. 19, 2000:
The National Park Service and the Gettysburg National Military Park will play host to an exhibit of Civil war drawings by Paul R. Martin III from today through Nov. 19 at the Cyclorama Center Gallery in Gettysburg.

"The Vision Place of Souls" Exhibit, features 19 color pencil landscape drawings on the Battle of Gettysburg. Opening reception is from 7- 9 tonight.


A lecture series with the artist is scheduled for July 1-3 and also on October 21 and November 18. The exhibit will travel to West Point in 2001.

For more information, call Martin at his Silent Sentinel Studio at 914-245-8903

---
| America s C W: 1999 | N. County News: 2001 | N. County News: 2000 | Rockland & Westchester Jrnl News: 2001 | Westchester Journal News: 2000 | Rockland Journal News: 2000 | Civil War News: 2000 | patent trader:2003 | Gettysburg Times 2004 | patent trader2005 |
---
| Battlefield Preservation | Gettysburg Exhibit | West point Exhibit | Union League Exhibit | Our Studio | In The News | Our Studio | Framing | Preservation | VFW Award | Gibbs Exhibit | Randolph County Arts Center | 1942 GPW | Reenacting and living history |
---
| Return Home | Limited Edition Prints | About us: Bio/Exhibits | 9-11 Fund Raiser | What's New | Contact Us | Events Schedule | Friends- Preservation Links | Mini Prints, Notecards, Posters | book covers |